KS55 Glass Double Sided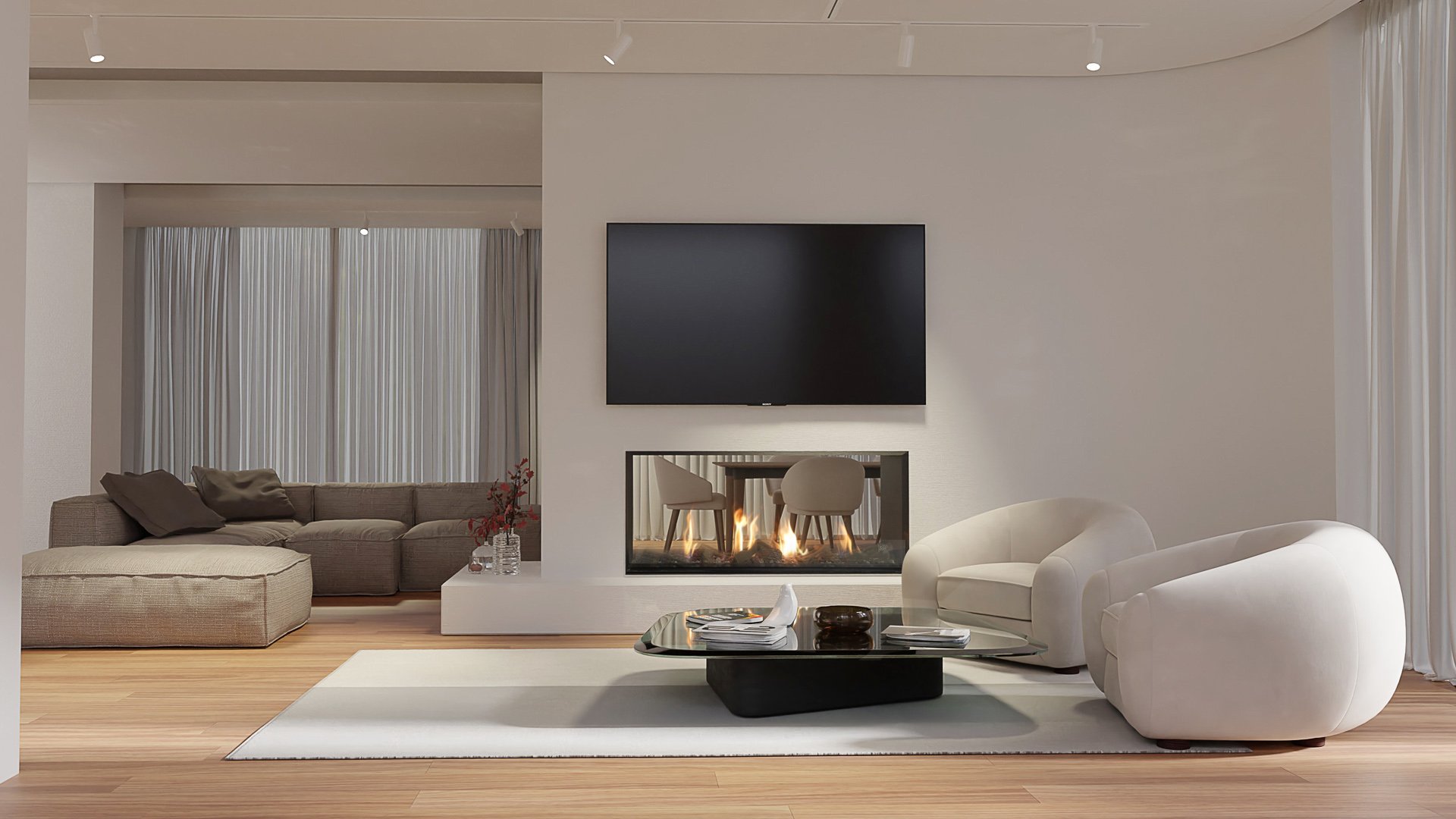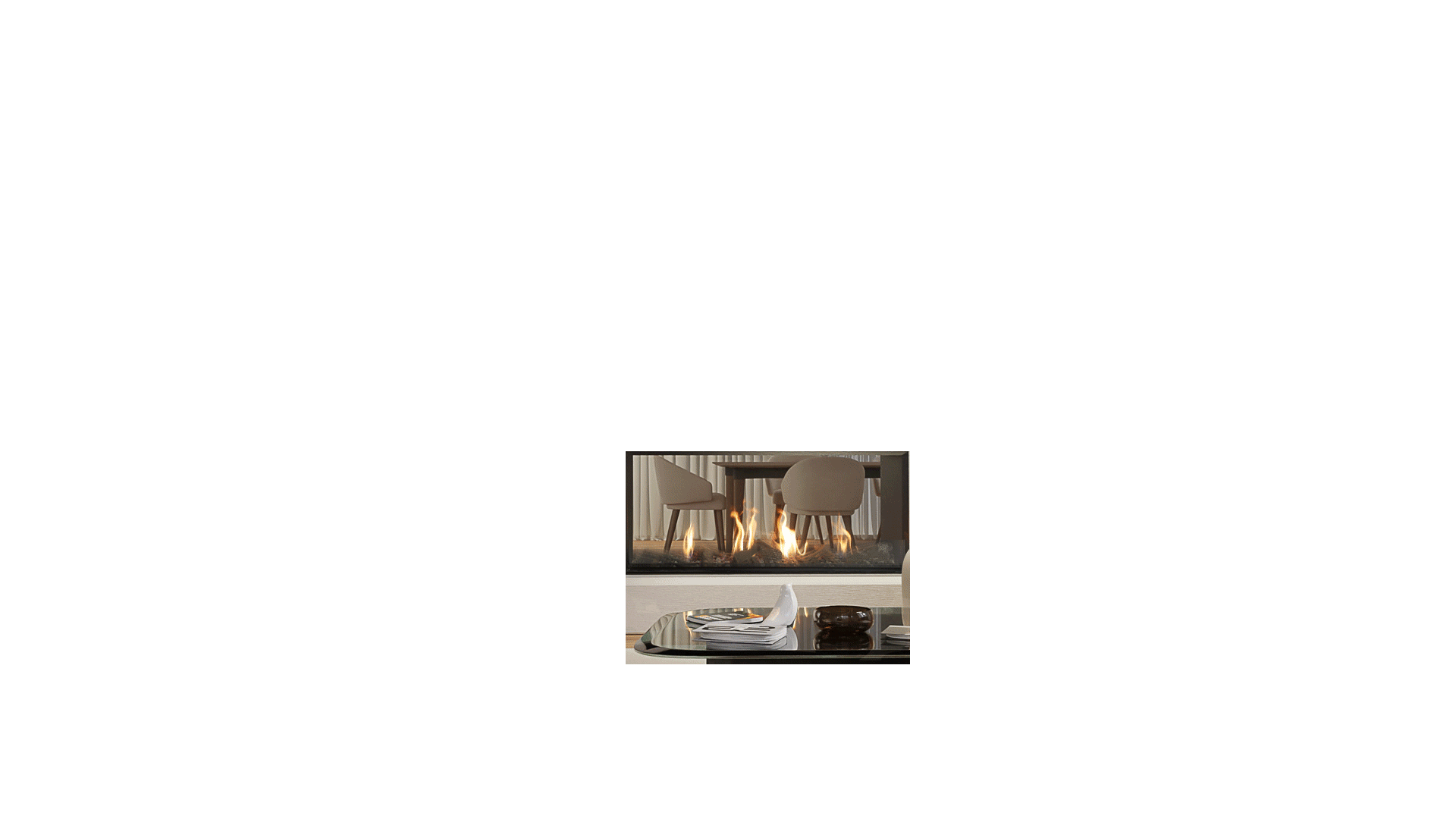 KS55 Glass Barrier See-through
Gas Fireplace
Big, bold, and beautiful, the Escea KS55 Glass Barrier See-through Gas Fireplace combines high performance heat with a sleek and sophisticated look. Luxe finishes, low reflection glass, and seamless joins enhance the impact of the flames and high-definition media, for a mesmerizing display. 
The Glass Barrier design also gives you the ability to heat several rooms, or evenly distribute heat in the same room – giving you warmth exactly where you want it.
Double sided, this fire creates a flame-framed window – visually connecting two spaces.
What's more, this truly frameless fireplace features Powered Direct Vent technology and a Zero Clearance rating – for next level design freedom. 
Also available in a Single Sided model.
Surround Choice
The Escea KS55 Glass Barrier Gas Fireplace has a Zero Clearance rating, meaning that the interior wall stays cool enough to handle most materials.
There is no need for expensive fire-rated wall constructions, giving you endless surround possibilities. The only limit is your imagination.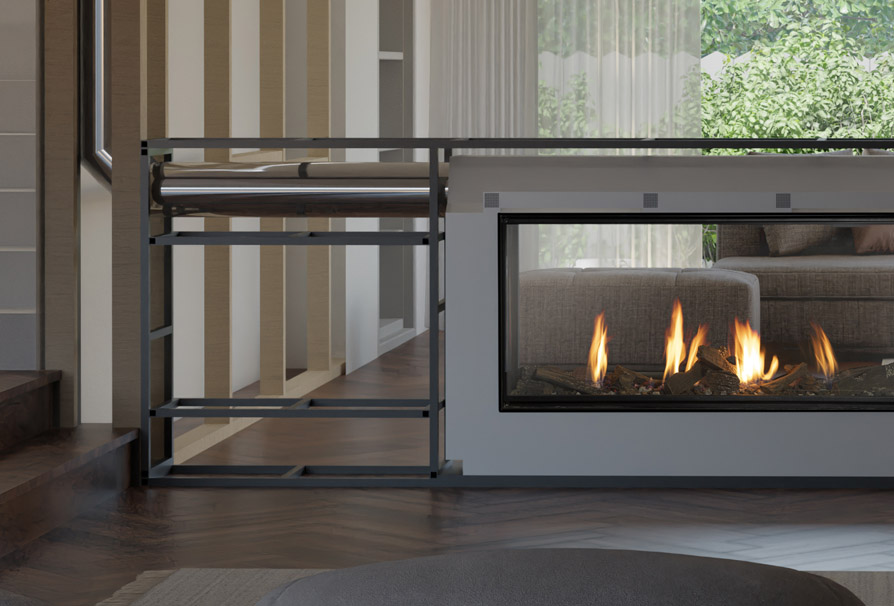 Design Freedom.
Escea's Powered Direct Vent uses efficient fan technology to heat the room, but not the vent. The innovative system also allows the vent to run up, down and even horizontally – giving you the design freedom to put your fireplace, anyplace.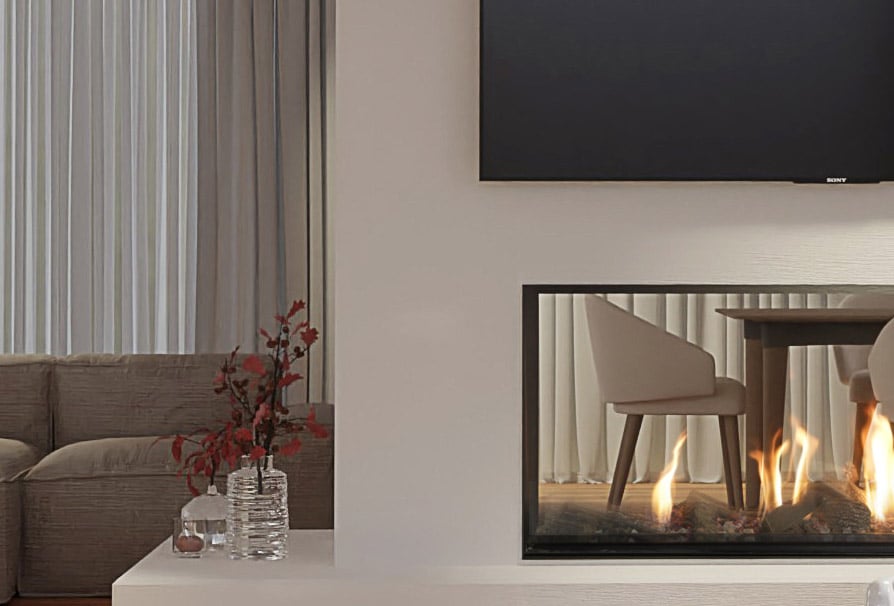 TV Right Above.
Fireplaces and TVs just go together – and with Escea's reduced TV clearance of just 8 inches from the top of the fireplace, they can get closer than ever before.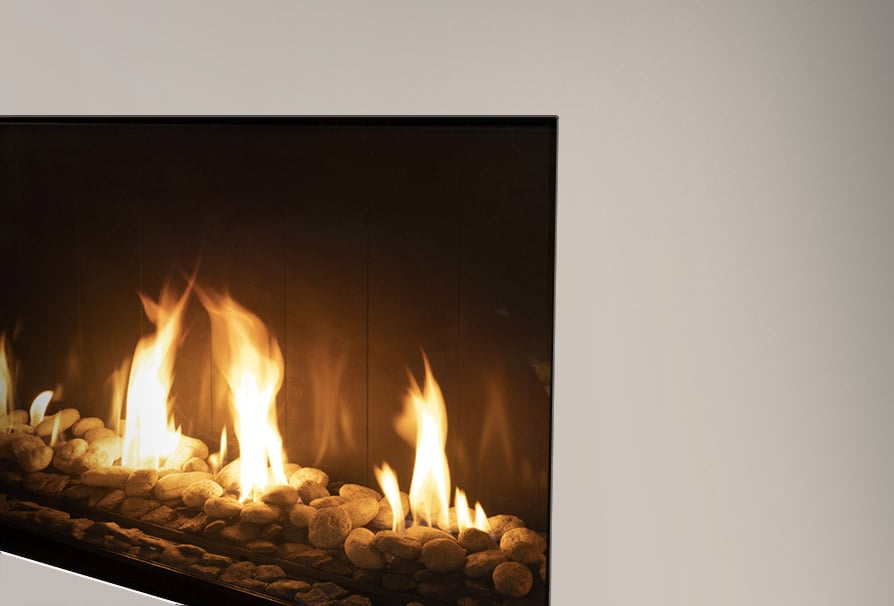 Truly Frameless .
This fireplace lets the flames do the talking – taking away any unnecessary detail with a minimalist look that is truly frameless.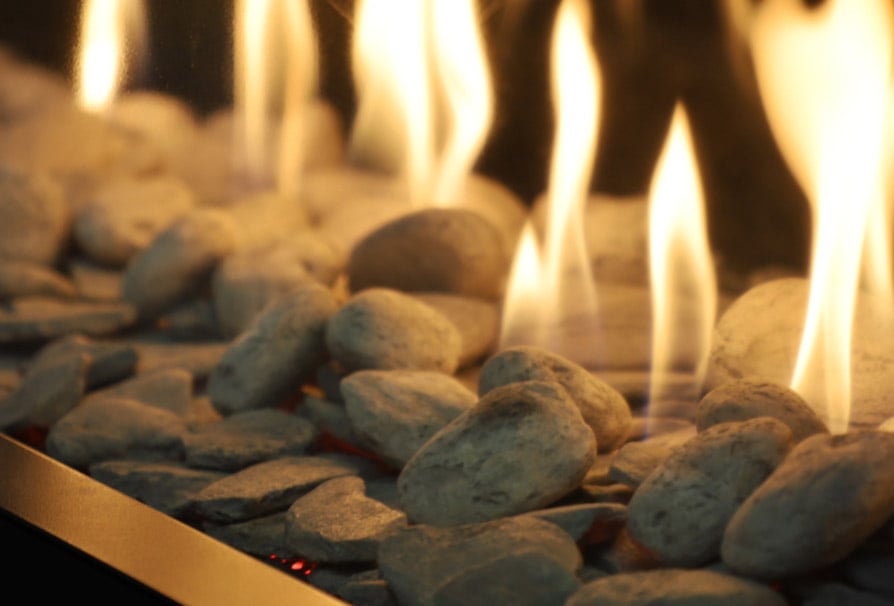 High-Definition Media .
Escea's range of fireplace media are handcrafted to give you the most authentic experience. Opt for nature-inspired Traditional Logs or Riverbed, or contemporary Crushed Glass.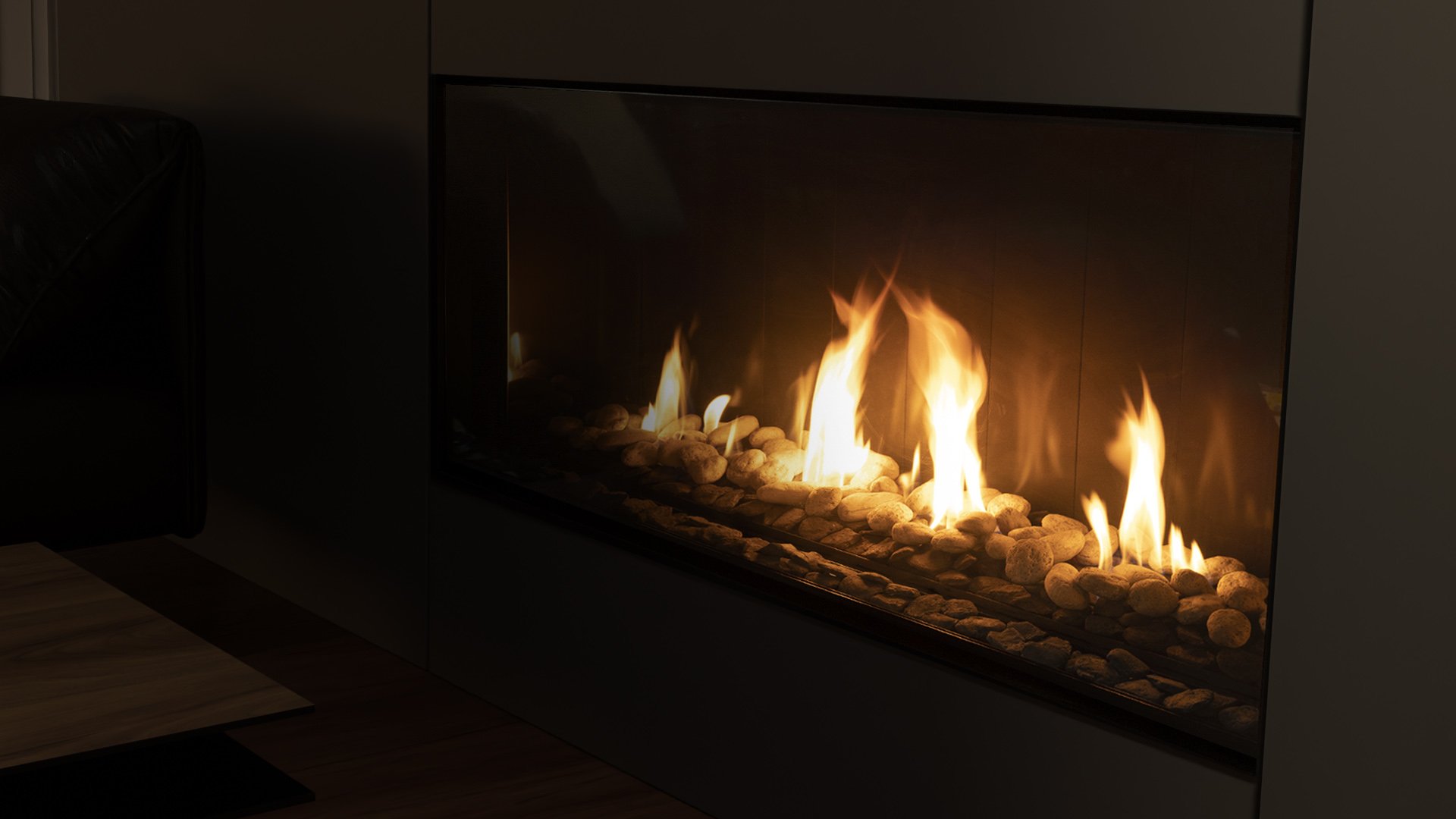 Heat where you want it.
Ducting technology allows you to provide heat to more rooms within the home, or evenly distribute heat in the same room.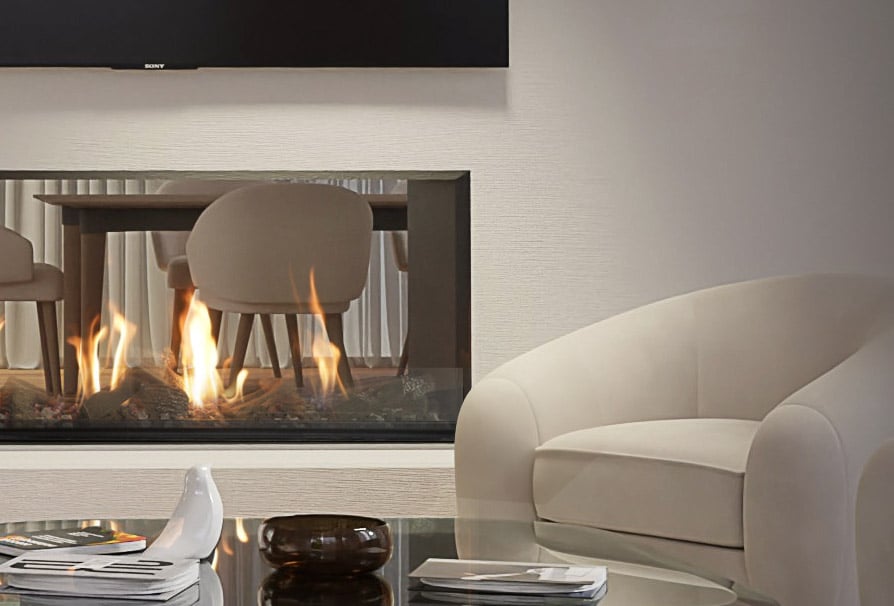 Double the Appeal .
With two sides of glass, this fire is a dramatic way to designate two spaces, while connecting them through a window of flame.
Specifications.
Gas TypeNatural Gas / Propane
Gas Input (NG/Propane)46,018 BTU-hr/42,244 BTU-hr
Heat Output (NG/Propane)33,132 BTU-hr/30,415 BTU-hr
Fireplace Size71 1/4" W x 39 5/8" H x 19 5/8" D
Viewing Area53 1/2" W x 24 7/8" H
TV & Mantel Clearance 8"
Appliance Weight456.3 lbs
Fuel Bed/Media OptionsTraditional Logs, Riverbed, Crushed Glass
Heat Duct SystemMandatory
Features
Heat Duct System
Zero Clearance Rating
Powered Direct Vent
TV & Mantel Clearance
Truly Frameless
Single or Double Sided Option
Warranty
Firebox Warranty5 Years
Total Warranty2 Years
Downloads.
Manuals and documents for fireplaces.
If for any reason you cannot find, open or print the information you want, please request the document via our Contact Form and we will email you a copy as soon as we can.