Thanks to the EK Outdoor Fireplace Kitchen's new Pizza Oven Accessory, you can now enjoy delicious wood-fired pizza in minutes.
Available to purchase as an optional extra, the Pizza Oven Accessory will take your outdoor grilling game to a whole new level. Not only is the EK capable of cooking up an entire meat lovers feast for the whole family, you can now cook pizza to perfection and be the envy of your friends.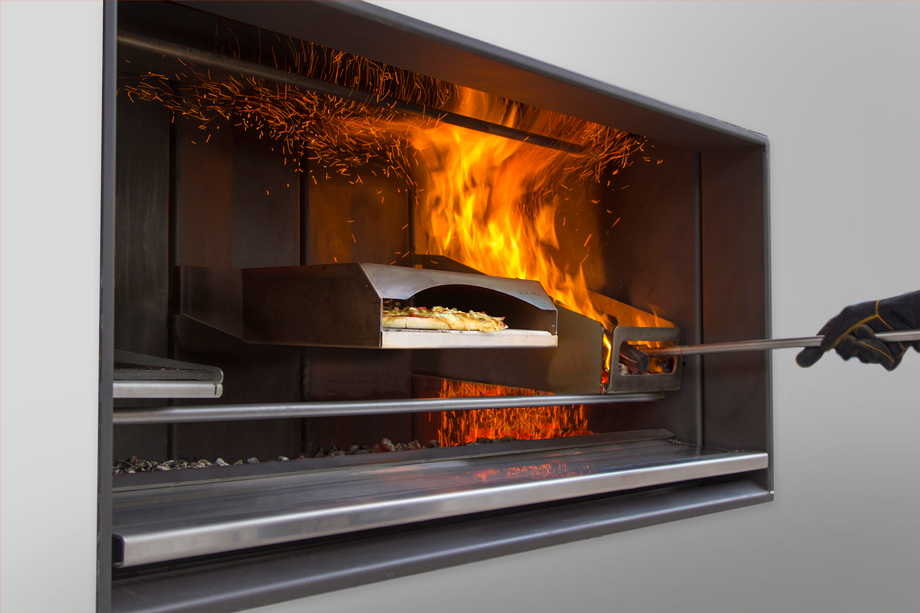 Why we love the new Pizza Oven Accessory
Ready in minutes
The EK Series Pizza Oven Accessory gives you a large, wood-fired pizza in just 5-10 minutes. So you can spend more time getting creative with your toppings, and less time waiting to eat.
Cooked to perfection
The hooded design directs heat down onto the top of the pizza, ensuring evenly melted cheese, while the pizza oven bricks give you a crispy pizza base.  Enjoy mouth-watering wood-fired pizza, every time.
Designed for pizza lovers
Constructed from stainless steel, the EK Pizza Oven is easy to assemble, and the removable brick base makes cleaning a breeze. To make sure your hands stay clear of the smouldering embers, the EK Pizza Oven comes with a long-handled Pizza Paddle.
Now you can cook Australia and New Zealand's favourite pizza, Pizza Margherita, on the epic EK Outdoor Fireplace Kitchen at home. Re-create our mouth-watering recipe created here at Escea, especially for the EK's new Pizza Oven:
Flame-grilled Pizza Margherita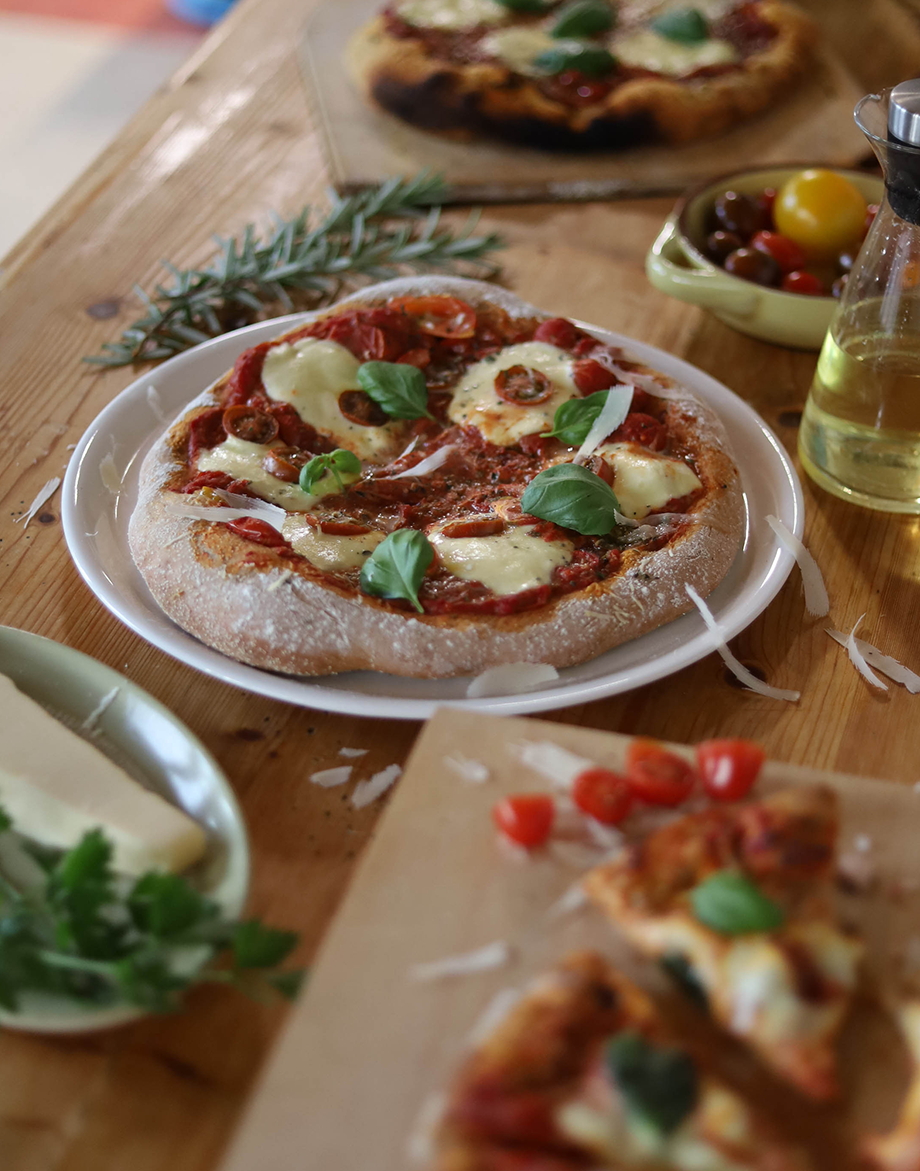 *This recipe makes three pizzas
Pizza Dough
500gm Spelt flour or Tipo 00 flour or 50/50 each
1 tsp salt
350ml warm water (30°C)
1 tsp active dry yeast mixed into the warm water to activate
Mix ingredients together in a mixer or by hand for ten minutes, until you get a sticky, but not wet dough.
Cover the dough and let it rise for up to 2 hours or until it has doubled in size. Punch it down and form the dough into a large ball. Cut the ball into three equal pieces and shape each piece of dough into a ball. Set aside and cover in a damp tea towel. Leave to rest for about an hour.
Sprinkle flour and coarse semolina or fine corn meal on the bench. Press out the balls and stretch into a thin crust pizza, pressing any air out to the edge. Leave a 2cm thick edge to the base and make the middle nice and thin. Carefully place the base onto the floured paddle, adjust the shape and get ready to add your toppings.
Toppings
Extra virgin olive oil - to paint on the base
2 tins cherry tomatoes, crushed and drained (or 3 punnets of freshly chopped)
4 Tbsp tomato paste mixed into the cherry tomatoes
1 tsp smoked paprika – to sprinkle over
Finely chopped sprigs of rosemary, oregano and thyme in equal amounts – to sprinkle over
4 Tbsp parmesan cheese, grated and sprinkled
3 mozzarella balls (125g each) cut into thin slices and well drained
Salt and pepper from the grinder
Fresh basil leaves
To Cook
Slip the pizza off the well-floured paddle and onto the hot stone. Cook for 3-6 minutes.
When the base is looking nut brown and the topping is melted, remove it with the paddle and place it on a board to cut. Add more basil leaves and curls of parmesan to serve and enjoy.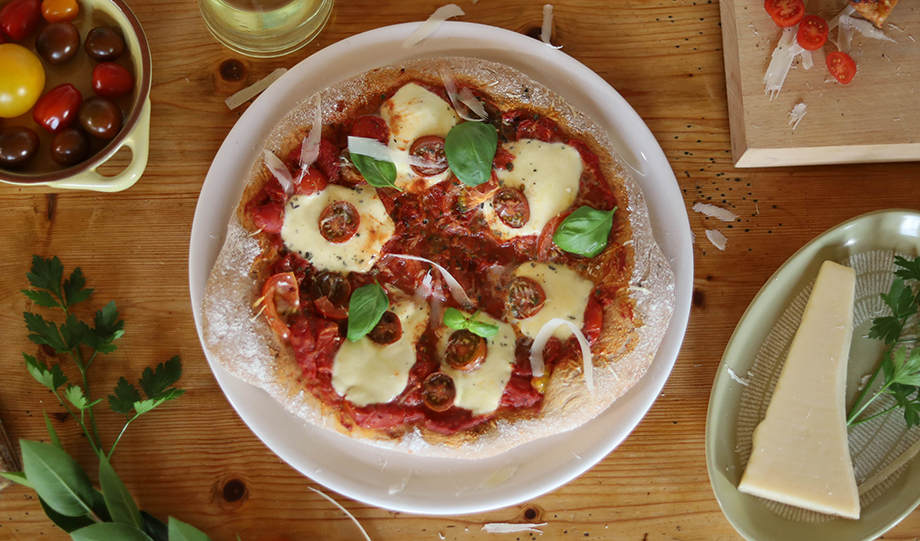 Learn more about the EK here, or see the EK for yourself at an Escea dealer.